CHAPTER Ib
The Norwegians Come Ashore

Please patronage this Norwegian family bloodline by clicking on any of the following companies:
(in order of incept date)


Read the historical letters of Hans and the Welo's!

The Norwegian side of my genetic cupboard comes from the Slettens & the Velos (Wee-lows), whom both left Norway from Oslo around 1850's. Unlike the German side of my family that emigrated to escape war, rape and plunder, these Norwegians fled to escape boredom...I'd be hard pressed to say that they...succeeded.
One of the young Welo's wrote a journal of the ocean trip which will be included in this chapter.
The oldest pictures of the notorious Norwegian gene pool are below.
The First Americans:
1) The Welo's
2) The Sletten's

1. Welo (in Norway: Velo)
Here is the oldest known photo of ANY of my relatives.
I'm confused about this photograph because Norwegians never spent a nickel on anything that didn't grow when planted. Why did Lars and Elli pay for this photograph?
Lars & Elli Falang Velo (later: Welo)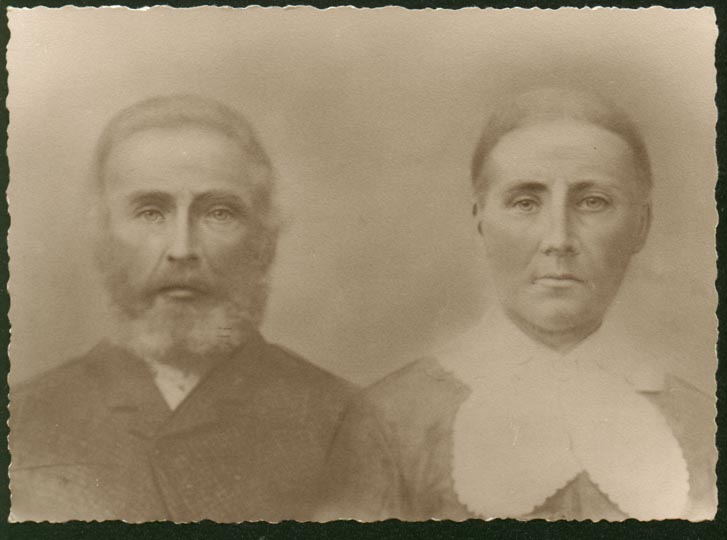 Lars A Velo (B: Aug 22, 1820 - D: Feb 7, 1906) / Elli Falang Velo (B: Dec 30, 1825 - D: Feb 6 1897.
Lars and Elli came from Norway by boat to Quebec, Canada in 1866, then by freight train to Iowa in the United States. A few years later they moved to near Pelican Rapids Minnesota.
I remember thinking as a young child, when I looked at this old photo that, I'd never seen a 'handsomer" man. He was 'almost' Sean Connery!

NOTE: I am still researching for all of the children of Lars and Elli - please contact me if you have more information.

Hans & Caroline Anderson Welo
Hans Larsen Welo was the fifth of eight children - I am still researching for the others. He was eight years old when the family sold their farm in Hadeland, Norway to come to America. 25 descendants of Hans and Caroline were confirmed at Zion Lutheran Church, in Churchs Ferry, ND.
Hans Larsen Welo

U.S. Mail carrier

b: July 29, 1858 (Hadeland/Hageland, Norway)

d: researching...

(this is the youngest picture I can find)

Caroline Anderson

mother

b: Sept 21, 1864 (Jernaker, Norway/Jevnaker, Oppland);

d: Dec 24, 1900 - Christmas Eve of pneumonia - (Churchs Ferry, ND)

(this is the youngest picture I can find)

Hans L. Welo, Son of Lars and Elli, moved from Pelican Rapids Minnesota to homestead in Churchs Ferry, North Dakota (20 miles west of Devils Lake) in 1883. He married Caroline Anderson in 1885. Hans and Caroline had a daughter Hilda who would marry Henry Sletten, Son of Hans and Anne Sletten.
Caroline Anderson Welo b: Sept 21, 1864 (Jernaker, Norway); d: Dec24, 1900 (Churchs Ferry, ND). The parents of Caroline Anderson were Anders & Fredrikka Erickson Ronnerud and immigrated (legally) to Rothsay, Minnesota.
After Caroline died, Hans re-married Vera Hansen in 1909 and moved to purchased land in Pinewood MN in 1916. He died at 79 tears of age.
Hans Larsen Welo - b: July 29, 1858 (Hadeland/Hageland Norway)

The Children of Hans and Caroline:
LARS
EMMA
HILDA
HAZEL
RUEBEN
U.S. Navy Physicist - Washington DC & Tulane University

m: ?

Science Teacher - Fargo, Oak Grove and Enderlin H.S.'s

m: Frank Roof

School Teacher - Rural Public Schools

m: Henry Sletten

Personal Secretary to Sinclair Lewis - New York City, N. Y.

never married

Farmer - Pinewood, MN

m: Agnes (maiden unknown)

2. Sletten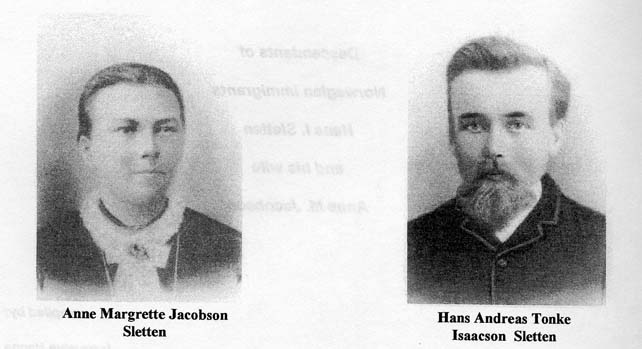 Are any better pictures available of this shifty clan?
- perhaps ones that say "Wanted"?
Anne Margrette Jacobson

b: unknown; d: 1942

Hans Andreas Tonke Isaacson Sletten

b: April 3, 1856 Norway;

d: 1937 St. Paulís Lutheran Cemetery, Honeyford, ND.

Hans Andreas Tonke Isaacson Sletten was born ApriL 3, 1856 in Norway. In Norway, he may have been known as Hans Isaacson.

In 1884, when he was 28, he immigrated to the United States, and settled in Minnesota in 1885. When he had enough money, he sent for Anne Margrette Jacobson and they were married by Joh. M.O. Ness in Perley, Minnesota, on October 13, 1888, with P.E. WeatendahL and A.O. Wolstad as witnesses. They settLed on a farm in Lee Township, near Perley, and started their family, beginning with Inga, followed by Nelius (Cornelius), Henry, Edwin, Sanna, Hjalmar and Agda. Hans was naturalized as a U.S. citizen November 12, 1897 in Norman Co., MN. The family attended Bethania Lutheran Church, near Perley where Inga was confirmed in 1903. Hans also brought his mother to America after his father died in Norway.

The Slettens stayed in Minnesota until the spring of 1909, when they settled in Wheatfieid Twp, near Honeyford, N.D. Soon after, Agda, the youngest, died at age 10. The eldest son Netius died of diabetes in 1914. The 1920 census shows the family as still living on the farm, but sometime in the next few years, they came to live with son Ed and wife CamiUa after a fire at their home. Granddaughter Helen described Hans as a tall handsome, elderly man with large hands who was rather quiet. She described Anne as being short, a Little plump, with gray hair in a bun and always busy doing something. Helen stated that they spoke in only in Norwegian, but census records state that Hans couLd speak English so he must have (earned enough to communicate when he had to. Hans died in 1937 and was laid out in state in the Ed Sletten sun parlor with a Bible and pair of scissors on his coffin. Anne died in 1942 of throat cancer. Both are buried in St. Paulís Lutheran Cemetery, in Honeyford.

Mom said that grandmother Anne had a 'mean streak'...but didn't everyone back then?

ABOVE: The picture on the left is possibly Anne Margrette Jacobson's mother, Ingebis. On the right, are Anneís brothers, no names given.

ABOVE: The picture of the Hans & Anne Sletten family ~ circa 1901 (Agda's birth year)

Back row (L-R): father Hans Sletten, Nelius (Cornelius), Inga, Henry & Edwin.

Front row (L-R): Hjalmer, Agda, Sanna & mother Anne Margrette [Jacobson] Sletten

All Norwegians fled Norway from Oslo.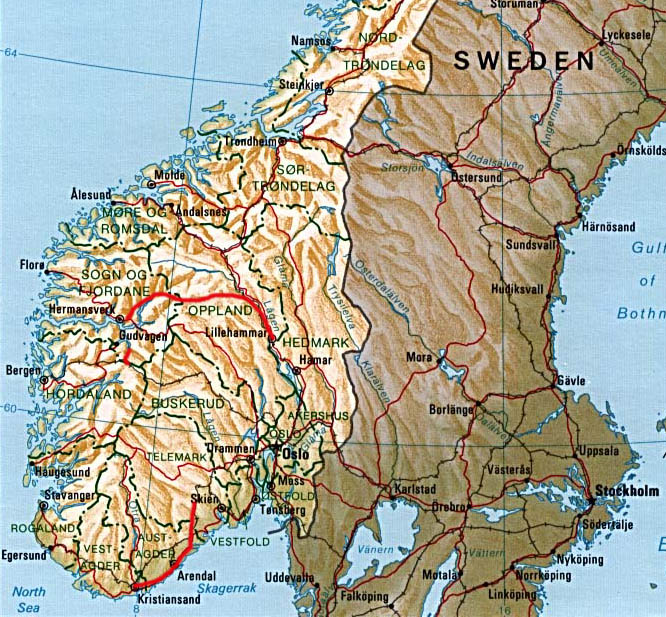 Apparently if you left Norway from any other venue of departure, you drowned.

The Norwegian~American Generations
A son of Ann and Hans Sletten, named Henry, married a daughter of Hans Larsen Welo & Caroline Anderson, named Hilda.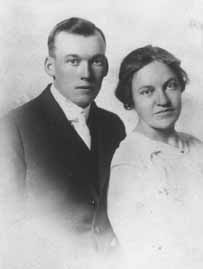 Henry Sletten & Hilda Velo - Wedding 1917

In turn, Henry and Hilda had a menagerie of unruly Norwegian offspring, as noted below.
The numbers after names dictate the order of birth - not blame (usually the reverse order).
The children of Henry & Hilda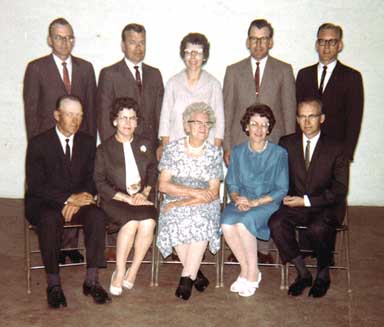 L-R top: Willis-3, Bernard-9, Fern-4, Milford-8, Victor-6
L-R bottom: Robert-7, Ruth-2, Hilda-Mother, Enid-1 and Harold-5.
beloved Willis d: 1974 / beloved Bernard (Bunny) d: 2002 / beloved Enid d: 2001 /

WARNING: Never ever allow Norwegians to operate photographic equipment!
Norwegian photography is NOT 'art'!
Out-of-focus, off-color and indeterminate blurry pictures are NOT techniques!
Norwegians are by nature, cheap - trying to get everyone in the photo on the cheapest film and cheapest camera and under the cheapest lights they can find, it is an irreversible cultural behavior probably nurtured from long periods of w-i-n-t-e-r experienced during the Depression.

Please do NOT attempt to modify this behavior!!!!!!!!!!!!
It must be left intact as an example to the rest of us who have escaped the skinflint culture or have not yet been ensnared by it.
It is wisdom for those of us, who are left - that grace flows best unimpeded thru a pipe rather than up through a fountain of ego.

Note: Henry & Hilda divorced, Henry remarried and began another and equally troublesome Sletten clan in northern Minnesota. Course...I'm thinking, you wanted...MORE kids?! Was Henry trying for perfection and left us with the mistakes?

Oldest known picture of Willis and Fern below.
NOTE: The involuntary "Sletten Eye Squint" - this picture may be solid proof that this so-called Sletten behavior actually comes from the Velo side of the family. This genetic flaw will be repeated in subsequent generations.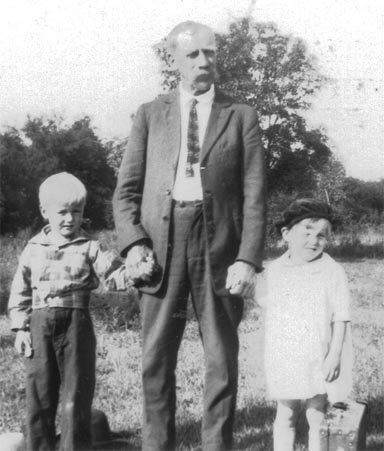 Willis Sletten, Grandpa Hans Welo (Velo) and Fern Sletten ~ circa 1928
NEXT: My Generation